FACIALS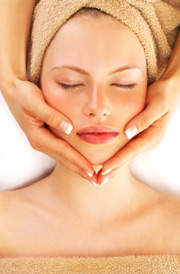 A facial is one of the best ways to take care of your skin, especially when it's given by an experienced, knowledgeable esthetician. A facial cleans, exfoliates and nourishes the skin, promoting a clear, well-hydrated complexion, and can help your skin look younger.
Regular facial
A regular facial from a highly experienced esthetician is an important part of your beauty routine, but it has to be followed up with good home care. Facials promote clean, clear beautiful skin through deep cleansing and a treatment that addresses your specific skin type. Home skin care keeps your skin looking good between treatments.
Microdermabrasion
Microdermabrasion, also known as microderm, is one of the easiest and most effective anti-aging treatments you can get. Its benefits are many: microderm softens fine lines and wrinkles, helps to smooth coarsely textured skin, decreases the appearance of scarring, decreases pore size, and reduces superficial hyper-pigmentation, also known as age spots. Microdermabrasion also makes it easier for high-tech skin care products to penetrate into the deeper layers of the skin and help build collagen, which gives skin its youthful appearance.
Vitamin facial treatments
Vitamin facial treatments are treatments that slow the skin ageing process.
Concentrated vitamin substances in ampules are applied to the skin and with ultrasound treatment they arrive to the deeper layers of the skin. These treatments, along with nourishing, have an antioxidant effect.
Acne treatment
Comedones occur when pores get clogged with oil and dead skin cells. Facial exfoliation takes off the top layer of skin, which unclogs pores and helps oil flow naturally through the follicles, thus avoiding future breakouts. Extractions remove the existing comedones, which both helps your appearance and also lessens the likelihood developing a pimple (which occurs when a comedone becomes inflamed).
Lifting Facial treatment
Lifting treatment uses radio-frequency energy to gently heat up facial skin tissues. It then reaches deep into the dermis layer of your skin to restructure collagen. Facial skin is therefore lifted and rejuvenated, appearing more youthful.
Lifting Facial Treatment can:
Tighten jawline
Tighten skin under the chin
Tighten skin around the eye area
Soften nasolabial line
Soften frown lines
Reduction of active acne
Reduction of acne marks
Gold treatment
The benefits of gold on skin have been well known since the ancient time of Cleopatra.
The 24 K Gold is an anti-ageing treatment, revitalizing, firming and rejuvenating.
It is the ultimate non-invasive skin rejuvenating treatment, using sheets of the highest grade of gold to lift and firm skin, reduces the appearance of fine lines and wrinkles, minimizes blemishes, fades age spots and leaves your skin luminous.
1.
Anti-Aging.
The first skin care benefit of gold facial is its anti-aging property. Gold fights off damaging free radicals to help prevent premature aging of the skin. What contributes to the anti-aging benefit of gold facial is its ability to develop new cells thus to renew and regenerate your skin making the face look youthful for longer period of time. The benefits of gold include slowing down collagen depletion and breakdown of elastin. Skin elasticity is enhanced to prevent sagging skin, and minimize fine lines and wrinkles, thus firming and tightening the skin.Its lack of toxicity and ability to conduct energy makes it a perfect tool for strengthening skin and slowing down the effects of ageing.Recent testing by the prestigious Gold slows down collagen depletion and the breakdown of elastin to prevent sagging skin. It stimulates cellular growth of the basal layer to regenerate healthy, firm skin cells and provide a tightening effect.
2.
Cleanse & Detoxify.
This facial is a great cleanser. This precious metal is well known for its toxin removal property.It facilitates removal of toxins and wastes, assists lymphatic drainage, improves blood circulation and accelerates cell renewal. It repairs oxidation damage and also is a great agent to treat pollutant on skin and protects your skin from the elements.
3.
Repair Sun Damage and reduces the appearance of age spots.
Another important gold facial benefit is its ability to repair sun damage. It repairs damaged skin cells, treats skin inflammations and also slows down and controls pigmentation and melanin creation, working wonders on dark spots and skin discoloration. This makes it the perfect skin care regime especially for summer, when the skin is the most vulnerable.Since 1929 Gold has been successfully used to treat rheumatoid arthritis by reducing inflammation. Gold's anti-inflammatory properties also decrease skin inflammation, thereby slowing down melanin secretion and reducing age spots.